Service
We offer many services to maximize the Return on Investment for our customers and we have the largest and best trained car wash service department in the Carolinas. Carolina Pride is the Exclusive PDQ LaserWash Distributor for North and South Carolina. From equipment installation to monthly maintenance Carolina Pride constantly invests in people, procedures, and technology to provide the best and most responsive support for our customers.
Quick Response is Our Commitment To You
Our goal is to return service calls within 20 minutes of your original call.
Our average service request response time is less than 3 hours.
Quick response times mean less down time, which means more revenue,and profit for our customers.
Our answering service is available to you 24/7 and after hours calls are "time and date stamped" detailing when the Service Tech is paged and when the page is returned.
GPS technology on every service vehicle allows us to locate and send the nearest Service Technician to your facility.
We maintain detail tracking of every aspect of the service performed for each of our customer locations.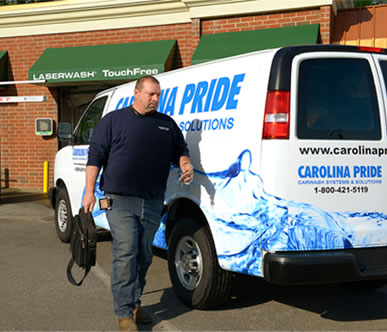 Maintenance Agreements
Reduce or eliminate major repairs with a preventive maintenance agreement.
Decrease emergency service requests and minimize down time
Customers can choose from several programs that best meet their individual needs.
Call 1-800-421-5119 or send us an email here.
Service Map